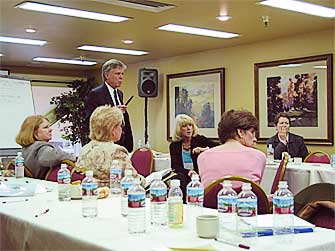 Vision:
The Four Corners Telehealth Consortium will be the benchmark for regional healthcare collaboration in the United States.
Mission:
Providing our populations with access to best healthcare practice unconstrained by geographical and jurisdictional barriers
Goals:
To reduce healthcare disparities in the Four Corners Region.
To identify and overcome multi-jurisdictional constraints.
To improve regional disaster preparedness and readiness.
To promote secure regional portability of health information.
To promote telemedicine and telehealth systems interoperability through the establishment of policies and standards.
To serve as the coordination center to promote interoperability between regionally based Local Health Information Infrastructure projects and the National Health Information Infrastructure initiative.
To provide healthcare providers throughout the region with information and expertise in the fields of eHealth, telemedicine telehealth and mHealth.
To enhance the knowledge and skills of healthcare professionals.
To promote culturally sensitive research by leveraging the regional collaboration.
To serve as a test bed to evaluate state-of-the-art telemedicine technologies.
To serve as an applications clearinghouse.
To model business plans for mHealth, telehealth and telemedicine.
To carry out strategic planning for mHealth, telehealth and telemedicine.